Benefits of Proactive Hydro-Jetting for Cleaning Septic Lines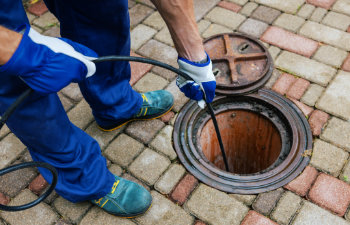 When it comes to septic systems, regular maintenance is key to ensuring they function properly and avoid costly repairs. Pumping is what comes to mind for most homeowners, but there is other proactive maintenance that can prevent septic problems like backups. One of the most effective methods of maintaining your septic system is cleaning the main septic line with hydro-jetting.
What Is Hydro-Jetting?
Hydro-jetting is a process that uses high-pressure water to clear out debris and buildup in septic lines. It involves inserting a specialized nozzle into the septic line and blasting water at pressures of up to 4000 psi. The force of the water is strong enough to break apart clogs and flush them out of the system.
Advantages of Main Septic Line Cleaning
There are several benefits to using hydro-jetting to clean septic lines. First and foremost, it is incredibly effective at removing even the toughest clogs. Unlike traditional methods like snaking, which can push clogs further into the system, hydro-jetting completely clears out the line.
Another advantage to hydro-jetting is that it is safe for your septic system. Unlike harsh chemical cleaners, which can damage pipes, disrupt the balance in your septic tank and harm the environment, hydro-jetting uses only water to clean the system. This makes it an environmentally friendly and sustainable option.
Hydro-jetting is a time-efficient method of cleaning septic lines. Because it is so effective at removing clogs, it can be completed in a fraction of the time it takes to manually clear out the system. This means less downtime for your septic system and fewer disruptions to your daily routine.
While hydro-jetting can be used to clear clogs or slow-draining septic lines, it is beneficial to perform this treatment as a preventive measure. Instead of waiting for clogs to form from debris flushed down the toilet or put down the drains, hydro-jetting can be used to clear sludge that collects in most septic pipes. This can reduce the chance of unexpected clogs and backups that can disrupt your life at the most inopportune times.
Of course, like any cleaning method, hydro-jetting does come with some risks. The high-pressure water can cause damage to pipes if not used correctly, which is why it's important to hire a professional for the job. A trained technician from Septic Service Pro will know how to properly use the equipment and avoid damaging your septic system.
Overall, hydro-jetting is an excellent option for cleaning and maintaining septic lines. It is effective, safe, and time-efficient, making it a popular choice among homeowners and septic system professionals alike. If you are experiencing clogs or other issues with your septic system, consider hydro-jetting as a solution. With the help of a trained technician from Septic Service Pro, you can have a clean and functioning septic system in no time. Call our office in Buford or Cumming, GA, to schedule your main septic line cleaning.