Can My Septic Drain Field be Fixed?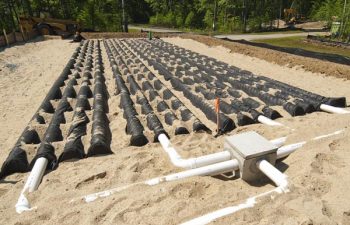 The first time you own a home outside a town or city you learn a lot. For example, in a municipality, you probably had a city-wide water and sewage service. All you needed to worry about was paying the bill. However, when you are out of town, you need a septic system to take care of waste and wastewater from your home. There are two parts of a septic system: the tank and the drain field. The tank is placed underground between the house and the drain field. It is where the solids in the wastewater remain until the tank is emptied. Then, the fluids go into a drain field or leach field.
What is a Drain Field?
Simply put, a drain field is an area in your yard next to your septic tank that receives the liquids from the septic tank. From there, the liquid either evaporates or is absorbed into the soil. The drain field is three to four feet underground and contains a series of trenches, with perforated pipes and porous material, usually gravel. This pipe system allows the fluids to be absorbed or evaporate in a few weeks to a few months.
With a new drain field of healthy soil filled with oxygen to absorb the wastewater, your system works well and should go unnoticed. But over time, the oxygen in the soil becomes depleted, and bacteria begin to grow. This bacterium creates a layer of dark slime known as biomat that covers the soil. As the biomat builds, the soil can no longer absorb the fluids. As a result, the drain field is not functional.
How Can a Drain Field Be Repaired?
Septic Service Pro can repair your drain field so you can continue to use it. First, we use a hydrojet to blast through and loosen all the biomat and other bacteria clogging the drain field. Next, we use a vacuum on our truck to suck all this loosened material out for removal. After this deep cleaning of the drain field, it can once again absorb the fluids released from your septic tank.
Do You Need a Leach Field and a Drain Field?
Don't be confused about whether you need a drain or leach field. The two terms mean the same thing. When your drain field begins to pool water or smell bad, it is time for repair. In northern Georgia, call the Septic Service Pro team for superior service in repairing your drain field and other septic system needs.
Posted on behalf of Septic Service Pro