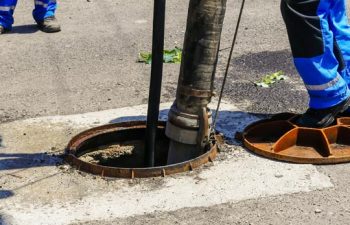 There are many different components of septic services. One of the more uncommon components is known as a sump pump. At Septic Service Pro, we specialize in all aspects of septic services. A sump pump is a part of some homes that collects liquids in a low space. Cars have sumps, for instance, that collect oil from the engines. Houses that sit in a high flood risk area often have a sump pump in the basement. If you have a sump pump, it will require maintenance, just like any other type of device in your home.
A sump pump is a simple device that detects water in the sump and moves it away from your home through a network of pipes. Homes with a sump pump have a small pit that is dug into the floor of the basement to collect floodwater that filters through any loose earth that surrounds your home's foundation. Just like your septic tank, your sump pump needs scheduled maintenance. Sand, dirt, and other debris can clog the pump and prevent it from working at full capacity. You do not want to find out that you have a clogged sump pump in an emergency!
Sumps are small, usually two feet deep and eighteen inches in diameter. The sump pump device is powered by electricity. When the water in the sump rises to a certain level, a float signals and electrical circuit, and the pump will engage. The pump will move water out to prevent flooding in your home. However, if the sump pump is not working correctly, you can have a major concern on your hands. It is also important to note that, because sump pumps rely on electricity, if you experience a power outage during a storm, your sump pump will not work. Having a battery backup to your sump pump is essential for when the main power is out for a prolonged period.
Because sump pumps are smaller devices, they need to be maintained regularly. It is recommended that sump pumps be examined every year. For homes that require the frequent running of their sump pumps, it is recommended that this examination be done every six months. While this may seem too often to some homeowners, it is important to understand that your sump pump is preventing major flooding problems. Keeping your pump maintained can prevent issues that will cost thousands of dollars to repair.
You can count on Septic Service Pro for affordable, high-quality sump pump maintenance, repair, and replacement services. Contact us today to learn more about your system and your scheduling needs.
Posted on behalf of Septic Service Pro