How to Know When to Have Your Septic Tank Pumped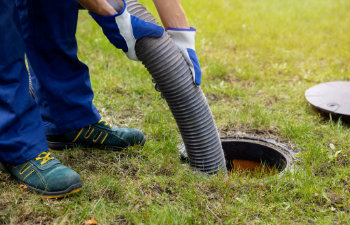 No matter how long you've owned your home, you may not have given much thought to the septic system when it's working as intended. Your system can be a highly efficient and effective one capable of processing household waste for years on end with no hints of trouble. While it's always best to invest in regular septic inspections to stay apprised of the condition of your system, out of sight really can be out of mind, and sometimes those inspections don't get scheduled. Here's how to know when it's time to have your septic tank pumped.
Signs of Septic System Trouble
There are a few telltale signs of septic system trouble, some more subtle than others. You may not always notice a patch of grass that's a bit brighter in color and healthier in appearance than the rest of your lawn, but foul odors are a bit more difficult to miss. Here's what you can expect to find if it's time to have your septic tank pumped.
Bright Grass and Pooling Water – A noticeably brighter patch of grass that's perpetually damp doesn't just create an aesthetic issue; it could signal septic trouble. Lush, very green grass on one spot of your lawn typically means that patch of grass is being over-fertilized by effluent exiting the tank. Pooling water, especially in the area surrounding the drain field, is a reliable sign your system needs servicing.
Suspicious Well Water Test Results – If your home has a septic system, there's a good chance it also has a well. This makes it doubly important to stay on top of septic maintenance, as system failures do have the potential to contaminate the groundwater that feeds into your well. High levels of nitrates during water testing are a reliable sign your tank needs to be pumped as soon as possible.
Slow Drains and Backups – The only thing worse than a sluggish drain is one that's currently experiencing a septic system backup. What they have in common is that both warrant a call to a septic service professional, one obviously much more urgent than the other. Slow drains throughout the home can be a precursor to a backup, which means they can be fended off with prompt service.
Protect your home from unpleasant and highly disruptive septic issues at the first sign of potential trouble. Septic Service Pro is standing by to help with inspections and service; call or contact us today to learn more.