Is it Time to Pump Your Septic Tank?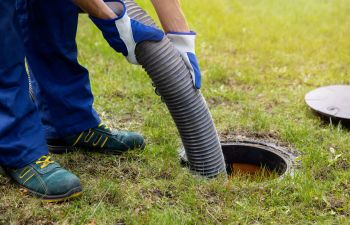 One of the key ways to keep your septic tank working correctly is through regular maintenance. For most homeowners with septic systems, there is very little that needs to be done on a monthly basis to ensure their wastewater is disposed of properly. However, a thorough pumping and inspection are needed to keep the system functioning; but how often should you have this performed?
Septic Pumping Schedule
There is not a set amount of time that should pass between septic pumping services. For most homes, this will depend on a few different factors. These include:
How big is the tank? Septic tanks are sized based on the house, which can impact how often the tank will need to be emptied. If you have a small house, you likely have a smaller tank that may need more frequent pumping.v
How many people use the septic system? If you have a large house with only two or three people living in it, you may only need a cleaning once every several years. However, a small home with many people living there can expect to need pumping more often.
The amount of waste produced. Everything that goes down the drain must be processed by the septic tank. If you have a home-based business that requires plumbing use, you may require a pumping scheduled more often.
The problem with septic tank maintenance is that it can be impossible to know how full your tank is unless you have an inspection. If your system is working efficiently, the solid waste is broken down and pumping is not needed often. However, the more food, paper and solid waste that are put down the drain, the more likely frequent pumping will be needed.
In most cases, having your septic system pumped and inspected every three years should be effective. Even if the tank is not full, this can prevent overfilling your tank and ensure that all the components are working correctly.
If it has been a few years since your last septic pumping service, do not wait for a septic backup to occur. Call our team at Septic Service Pro at our locations in Cumming or Buford, GA to schedule your next septic maintenance service.
Posted on Behalf of Septic Service Pro