Locating Your Septic Tank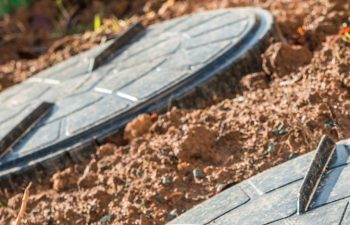 We often get calls from customers asking how to locate a septic tank on their property. For those homeowners who do not have a special riser that raises the lid of the septic tank above ground, it may be challenging to locate your septic tank. However, there are a few things that you can do to locate your septic system on your own. Being able to identify your system will save you money in the future.
The first thing you can do is contact the local health department for public records. Permits are needed to install a septic system, and these permits come with a diagram of the location of where the system is buried.
If the health department does not have a record of the permits, you can make a public records request.
You can contact the contractor who built your home, as he will have a diagram of where the septic tank is located.
If you do not find success through these means, you can try to locate the septic tank yourself on your property. You must first find the main sewer line. The main sewer line begins in the basement or crawl space and exits out the side of your home. From inside your basement or crawl space, measure the location where it leaves the house. Then, find this same location on the outside of the house. Using a thin metal probe, carefully probe the yard every few feet to follow the septic pipe across your yard. *Take care not to push hard if you feel any type of resistance. Probing too hard can puncture your septic line and cause significant issues. Most septic tanks are buried approximately three feet underground, and they are typically 10 – 20 feet from the home.
If you have been unsuccessful at locating your septic tank, please call Septic Service Pro. We have special equipment to locate your tank. While this will require your payment, you will know where your septic system is located for future needs.
Posted on behalf of Septic Service Pro