Mind What you Put Down Your Sink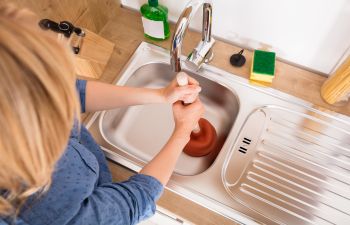 Septic systems are underground wastewater treatment structures that use a combination of nature and proven technology to treat wastewater from household plumbing. Septic systems treat water that drains from the house produced by bathrooms, laundry, and kitchen drains. When it comes to your septic system, it is essential to remember that all water runs out of your house from one main drainage pipe into a septic tank. Many people tend only to associate their septic system with wastewater from the bathroom, and this is a mistake that gets many homeowners into trouble.
What you choose to put down your sink will affect how well your septic system does its job. A septic system is not designed to be a garbage can! As a general rule of thumb, do not dispose of anything in your septic system that can just as easily be put into the trash. One of the most common mistakes that homeowners make when it comes to their kitchen and septic system is installing a garbage disposal in the kitchen sink. A garbage disposal system increases the amount of solid waste that enters the septic system by 40%. That is a significant percentage! The more solids that enter the septic tank, the more frequently the tank will need to be pumped, and the higher the risk that problems will arise.
For homes that have a septic system, the only things that should be flushed down the drain or washed down the sink are wastewater and toilet paper. Wastewater in the kitchen includes rinsing dishes after solids have been scraped into a trash can. This also must consist of disposing of grease with the regular garbage. If you drain grease into your kitchen sink, it will harden on the pipes and begin to clog your drains. If it reaches your septic system, the same thing will happen – and you will find yourself with a messy situation where your septic system will not allow waste to pass into the system and backup in your yard.
At Septic Service Pro, we encourage you to properly care for your septic system so that it works properly for you. If you need a repair or pumping service, please contact us. Our excellent reputation for quality is what you need.
Posted on behalf of Septic Service Pro