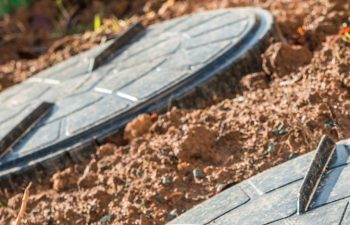 Septic Service Pro's septic services provide both residents and businesses with full-service septic tank pumping and septic tank cleaning in North Georgia.
If Your Septic Lid Breaks
Every septic system requires a septic lid. These are typically concrete fixtures that prevent both odors and sewage from seeping into your yard. A heavy septic lid helps prevent children or anyone else from trying to remove it from its secure location. When your septic system needs pumped and cleaned out, the lid must be removed. This job is a heavy one that should be performed by a professional to ensure proper care, placement and replacement of your lid.
If your septic lid is broken, it is required that you replace it. A cracked or compromised septic lid can lead to harmful environments for children and animals. Failing to replace a broken septic lid can result in negative and even dangerous outcomes for you or your family and friends.
Septic lids are often located underground. If this is the case at your home, it must be dug up to access it. Septic lids may also be on a riser and right at ground level. Accessing your lid should be done with care, so you don't risk damaging any other utility lines buried underground.
If your septic lid breaks call Septic Service Pro. You can always expect high-quality service every time you call! Our reputation in our industry was built over many years of dependable service to our North Georgia customers. Call and discover our difference today.
Posted on behalf of Septic Service Pro