Septic System Basics: How does it work?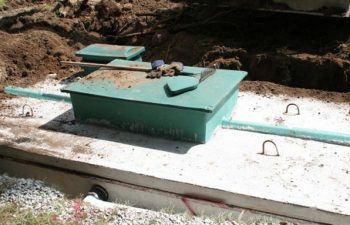 Moving into a home with a septic system is common in many of today's residential areas. Understanding how a septic system works is beneficial so that you can help it to work appropriately, know when things go awry, and know what to do if problems occur.
There are different design variations of septic systems, but they all perform the same primary function: to process household wastewater into a cleaner effluent that can be evenly distributed beneath the ground and blended with groundwater without creating a health hazard. Basically, homes on septic systems have their own onsite sewage facilities. Most septic systems are passive systems with the following components:
An inlet pipe: an inlet pipe carries the household water from the home to the septic tank. When a toilet is flushed inside a house, the wastewater flows from the house through an inlet pipe into the septic tank, which is downhill. Gravity allows wastewater to move through the inlet pipe into the septic tank.
The Septic tank: the septic tank is a "holding tank" full of living microorganisms called anaerobic bacteria. Some of the material in the septic tank floats while other material sinks to the bottom. The bacteria in the tank multiplies with the waste that enters the tank, and the bacteria get to work "eating" the organic matter in the septic tank. As the floating layer is eaten, the remains fall to the bottom. The floating material that remains in the wastewater is then carried out of the tank to the drain field (also called the leach field).
The gravity drain field: The gravity drain field slopes downward and disperses the filtered water into the ground.
When a septic system is working properly, this process is a proven and safe method of handling wastewater from a home. Over time, the solid waste left inside the septic tank will collect at the bottom and will need to be pumped out after a few years.
If you own a home with a septic system, Septic Service Pro is your source for ongoing maintenance, tank pumping, repairs, and inspections. Contact one of our knowledgeable team members today for a free estimate or to schedule an appointment for your septic service needs.
Posted on behalf of Septic Service Pro