Septic Tank Care for Condominiums And Apartment Buildings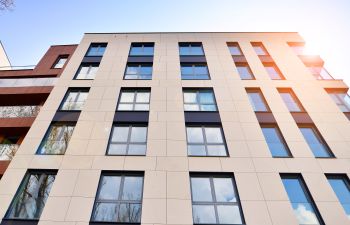 Many factors affect the type of septic systems needed for commercial use. The size of a facility, the number of residents and the location are a few reasons septic systems will differ from place to place. This can cause them to vary significantly in size and upkeep requirements. Installation and replacement of commercial septic systems are costly. Thus, it is important to be mindful of the following suggestions.
Installation
Installation by an experienced professional is preferred. However, it is likely that you have inherited a commercial septic system or two without having had a say in by whom or how the installation was done. It is crucial that you learn and record as much as you can about the design(s) that you have to work with.
Inspections and Maintenance
You have two goals with the commercial septic system. First, keep it working. Second, protect the longevity of the design you have. Both goals are served by regular septic inspections and routinely scheduled maintenance.
All septic systems are supposed to come with a recommended cleaning and pumping schedule. This routine maintenance ensures that the system works for years to come. What this routine entails depends on the system's size, type and frequency of use. If you acquired a property or responsibility for a property that did not include this information, contact Septic Service Pro for assistance.
Refrain from attempting to clean or pump a commercial tank yourself. Professionals are trained to clean and service your commercial system(s) correctly.
When Problems Arise
If a clog, leak or other performance issue erupts regarding a commercial septic system, it is important to call a professional to correct the problem immediately. If not handled in a professional or timely manner, sewage can back up into the building and create massive problems.
In addition to offensive odors and puddles of mess, exposed sewage will pose serious health concerns because of the bacteria. Owners and tenants become upset by such problems. Often there is significant property damage accompanying larger backups.
Understand Your Septic's Needs
Condominium and apartment building management is a challenging job. It requires a significant input of time and effort to care for the interests of many. Avoid headaches caused by unkempt septic system(s) that wake you in the middle of the night. Understand the needs of your commercial septic system(s) and call Septic Service Pro for routine inspections and care.
Posted on behalf of Septic Service Pro