Septic Tank Inspection or Mainline Cleaning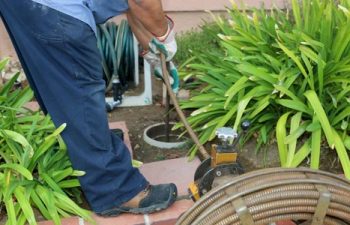 There are several issues you may encounter with a septic tank or mainline. As a home or business owner, it is in your best interest to get ahead of disasters. Mechanical failures, blockages, and lost septic tanks are just some of the common challenges you could face.
Maintaining a septic tank is important. The number of people using your property is important. You may need to readjust maintenance schedules according to increased usage. It is also worth noting that small children and teenagers tend to dispose of improper objects in the toilet.
Protecting your Plumbing System
Toys, face wipes, and anything that is not human waste should not go in the toilet. It is that simple. These objects can cause blockages and potentially damage a septic tank system. Therefore, establishing rules and preventing toddlers from accessing toilets unaccompanied is recommended.
If your plumbing is damaged due to misuse, you can rely on Septic Service Pro to identify and resolve the issue. We specialize in the inspection, cleaning and repair of septic tank systems. Upon completing our work, we will recommend a maintenance schedule that could save you money.
Mainline sewage systems are not immune to blockages. As sludge and other debris build up, water cannot drain away effectively. The result is clogging that can back up into your home or business premises. In addition, you will likely detect foul smells coming from drains and plumbing applications such as sinks. When you get these early warning signs, act immediately to avoid a catastrophe.
Signs of Waste Water Backing Up
When it comes to a septic tank, the drainage field can reveal clues that sewage is backing up. Flooding that presents as standing water will indicate that there is a problem. Backups in drains, toilets, and sinks are serious red flags.
The same symptoms apply to a mainline sewage pipe. However, you are more likely to see flooding from drains or areas where plumbing is damaged. If you are concerned about plumbing disasters destroying your home or business premises, reach out to Septic Service Pro today. We are passionate about ensuring that your drainage systems are effective and affordable.
Posted on Behalf of Septic Service Pro