Tips to Prevent Bathroom Sink Clogs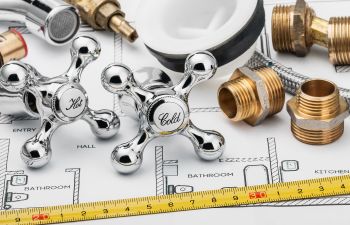 When your home relies on a septic system, everything that goes down your drains matters. Your plumbing drains are designed to carry wastewater from your home to the septic tank. Just like pipes on a sewer system, the lines running to your septic tank can become clogged. Not only do clogged pipes disrupt your home, but they can also jeopardize the health of your entire septic system.
One of the most common places for clogged pipes to occur is in the bathroom. If you have ever taken a shower with standing water at your feet or had the bathroom sink fill up with water as you're shaving, you know how frustrating a clogged bathroom pipe can be. If these water backups occur regularly, the following tips can help prevent bathroom clogs.
 Brush your hair away from the sink. One of the most common causes of clogs in a bathroom sink is caused from hair. Try standing back from the sink so that hair does not fall into the drain.
 Pick up hair from the shower floor.Just like hair clogs sink drains, hair is notorious for causing showers to backup. Take the time to collect the hair that falls out while you are showering. Letting it fall to the shower floor is a recipe for gross clogs.
 Perform monthly drain cleaning if you shave over the sink.Shaving over the sink is convenient, but it can be harmful to your pipe's draining efficiency. The short hairs and whiskers from facial shaving can be just as problematic as long hairs. If you shave every day, then more hair will be put down your sink than someone who brushes their hair. An easy combination of vinegar, baking soda, and boiling water can be poured down your sink to clear out the drainpipes effectively.
 Be mindful of your toothpaste. Believe it or not, toothpaste is a sneaky culprit to clogged bathroom sinks. Toothpaste is a thick substance that can glob and harden quickly against the pipe walls. Use only what you need, being mindful not to drop globs of toothpaste in the sink. If a large portion of toothpaste falls into the sink, wipe it up with tissue instead of rinsing it down the drain.
 Be careful with hair care and personal care products. Just like toothpaste, hair gel, lotions, and facial products can clog your drain. Most of these products are thick and sticky, and they can easily cause issues when combined with hair clogs.
Even with careful preventive measures, drains can still clog. If a home remedy does not work to clear your drainpipes, contact Septic Service Pro.
Posted on Behalf of Septic Service Pro